Loon Strike two
During my many hours of fishing buzzers and such patterns, I 've tried all kinds of strike indicators . This is by far the best! It is light , so easy to cast. It floats like a cork. You fix it easily to your leader. It stays tidy. And most importantly, it is very visible and records the smallest take. You really only need a small tuft. So this relatively expensive jar of 15 cm superyarn lasts for years . Use this version ... the Strike Two, you can still halve the spec too. Most rigs with 2 buzzers are still fishing well. An additional advantage is that the indicator can still go through your tip guide of the rod. You let the yarn just sit on your leader for the next time. You can also re-use a long tuft. It is available in two highly visible color ; fluorescent orange and fluorescent yellow.
This is what Loon says;
Synthetic glo-yarn strike indicator pre-treated with Hydrostop to keep them visible atop the water, floating forever. Bigger yarn for bigger flies or weaker eyes. (15cm 1/4″ diameter)
1/4″ yarn indicator
Treated with Hydrostop for extra flotation
Cut to your own desired length
Excellent sensitivity for subtle takes
Common Indicator Knot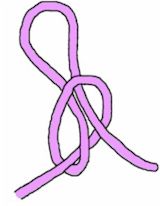 This is the common indicator knot used to attach indicators to tippet or leaders. It very easy to tie. It's a granny knot except you make a loop instead as shown in the picture. Put your indicator material through the loop, pull tight and trim your indicator to the required size and away you go.
It's easy to open up the knot to move the indicator
NB. I find this knot breaks fairly readily so it's best not to use it on finer tippet and to give it a pull test every so often to check it's strength.
I personally prefer this indicator knot as it does break quite as readily: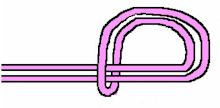 Half Hitch Indicator Knot
Form a half hitch in the appropriate spot on your leader / tippet and place your indicator material in the loop, pull tight. Then make another loop in your leader / tippet and thread it over the indicator and pull tight. This will lock the indicator in place. If you don't use the extra loop you'll find the indicator slips. Trim to size and you are ready to go.
To remove this indicator separate the indicator fibers by pulling them apart at one end of the indicator to open up the knot.