-41%
A.Jensen Spook Stalker
SALE SALE SALE
Danish design, Scandinavian knowledge!
A.Jensen Spook Stalker review:
http://flylifemagazine.com/monday-gear-review-a-jensen-spook-stalker-fly-rod/
'If I had to compare it to another rod of fly fishing fame, the original G. Loomis GLX would come to mind first. I actually prefer the Jensen.'
That says it all. Andrew is right... This is one of the best rods I have ever fished! In a blindfold test it became runner up right after the Sage One.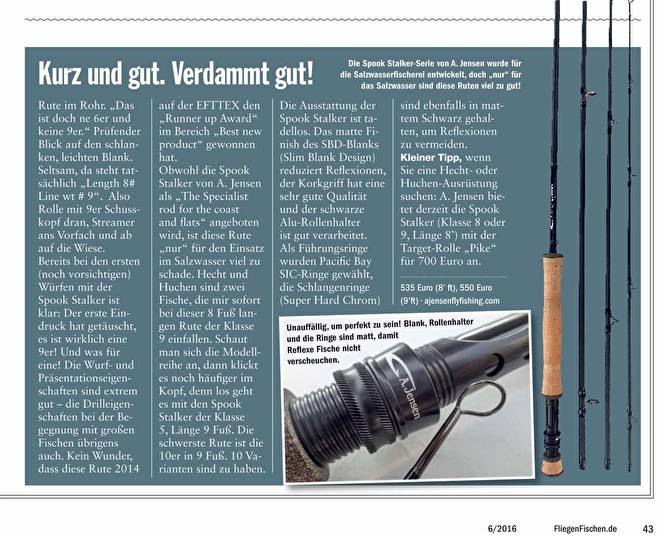 The new Spook Stalker from A.Jensen is built to meet the standards of the modern saltwater fisherman. We asked a bunch of people from Striper guides in the North East of USA to flats guides in the South East of USA, what they needed in a perfect saltwater rod for inshore fishing. The Spook Stalker "grew out of their heads" and experience.
We designed the rod to be matt black all over, even the guides, to avoid flare and spooking shy fish in skinny water. On top of that we used our SBD (Slim Blank Design) to create a very slim rod that cuts through the wind like a knife, something all still water fishermen appreciate when trying to achieve long casting in windy conditions.
We have used the highest obtainable quality fittings, and adjusted every detail based on testing in waters around in Europe and North America.
The SPOOK STALKER is a very slim and extremely light rod, with a huge amount of power, yet very delicate and sensitive. Try and lift and shake the 10 weight – I'm sure you will be amazed by the lightness, and you will for sure be sceptic if it really is a 10 weight, as it feels more like a 7 or 8. Come by one of our dealers and try it with a line on – let the rod convince you, not us!!!!
The SBD (slim blank design) and AHT (advanced helical technology) assures a fast rod with great casting potential on both short and long distance, and a phenomenal low weight.
The Spook Stalker rod won the Runner up award at the "best new product competition" at the international EFTTEX show 2014.
Features:
45 Tons graphite

SBD (Slim Blank Design)

Advanced Helical Taper technology

Top quality Portuguese cork handles

Pacific Bay SIC Stripping guides

Beautiful reel seat in airspace graded aluminium

Super Hard Chrome double leg snakes and top guides in matt black

Dots for correct and easy assembling of rod parts

Supplied in Cordura rod tube
Models:
SPOOK STALKER:
Length AFTM Rec. Shooting head weight Pcs. Weight Handle
9' 7 16 g. 4 106 g Full Wells + Fighting Butt
9' 8 18 g. 4 110 g Full Wells + Fighting Butt
9' 9 20 g. 4 116 g Full Wells + Fighting Butt
9' 10 22 g. 4 121 g Full Wells + Fighting Butt
About A.Jensen Flyrods
ONE OF THE TRADE MARKS OF THE A. JENSEN RODS IS THE TIME WE SPEND ON EACH MODEL, BEFORE IT ENTERS THE MARKET. WE WILL RATHER TAKE ONE YEAR EXTRA WITH THE TEST TEAM AND DESIGNERS, THAN FORCE PRODUCTS INTO THE MARKET, THAT WE DON'T HAVE FULL CONFIDENSE IN.
WE DESIGN OUR RODS, BASED ON A PRACTICAL ANGLE TO FLYFISHING. FIRST OF ALL WE ARE FLYFISHERS OURSELF, AND WE WORK WITH THE AIM TO MAKE GREAT EQUIPMENT, IN ORDER FOR YOU TO EXPERIENCE MORE EFFECTIVE FISHING, AND MOST IMPORTANT MORE JOY IN FLYFISHING.
BY OUR TERMS A FLY ROD IS NOT JUST A CASTING TOOL, BUT A TOOL FOR FISHING.
By that we mean that it should handle both the casting and the joy of fishing and playing a fish at the same time.
Beside that we wanted to create rods, that are able to cast both long lines and shorter lines with full control, as this is one of the crusial aspects of flyfishing. With many modern flyrods you only get the rod properly loaded, with a lot of line outside the top, and only from that point on will you cast with full control. We want our rods to load with short lines, but still be able to cast long lines.

In order to achive what we want we make a so called "compensated tip", meaning a tip that loads quickly. One could make the top of softer material, but then you get a rod action, that feels strange when casting.
Instead we use "Advanced Helical Taper" technology and thereby creating a rod, where the top of the rod loads quickly, without beeing soft. The "Advanced Helical Taper" technology means changing and opening the angle of the helical wound graphite towards the top. By using the same material, and still under the same amount of tons of pressure as the rest of the blank, we get a rod, that performs with a unique balance.
The quick loading top has many benefits. When fishing shorter lines, such as when fishing dries and nymphs, you will have more accuracy and control.
When fishing stillwaters, both lakes and salts, you will with much ease be able to shoot the first meters of line, as the rod actually cast the line right from the first false cast. There is no "waving" the rod, to get so much line out, that the rod actually loads and casts. Your casting strokes will be more balanced, as you get a rhythm right from the start of the cast. It will simply put feel more easy. On top of that the rod is a light and sensitive instrument, and an absolutely joy to play a fish on. This brings us back to the where we started – We want to make a fishing rod, not just a casting rod.
Warranty
All A.Jensen fly rods are covered by a 2 year warranty.
This covers defects due to craftmanship or materials.
If the rod is damaged, please send the rod and the original receipt (received when you buy the rod) to your dealer.
If the damage is covered by the warranty, the rod will be repaired or replaced.
After 2 years, or in case of the damage is not caused by defect due to craftmanship or materials, each part will be charged at a price equal to the recommended retail price divided by the amount of part. Meaning a part from a 4 piece rod cost ¼ of the recommended retail price of that rod.
Important: The warranty only applies to the original owner and the owner must be able to present the original receipt of the purchase. Resold rods are not covered by this warranty.